Dr. Brian Floyd, North Vancouver Chiropractor
Keeping the Body in Balance
Located at Delbrook Mall in North Vancouver – easy access from the highway – Chiropractor Dr. Floyd's office has ample free parking and provides a friendly environment for treatment of a variety of neuromusculoskeletal complaints. We offer direct billing for most extended health providers!
Dr. Brian Floyd Provides:
Chiropractic Therapy
Orthotic Therapy
Kinesio Taping
Theralase Laser Therapy
Book an Appointment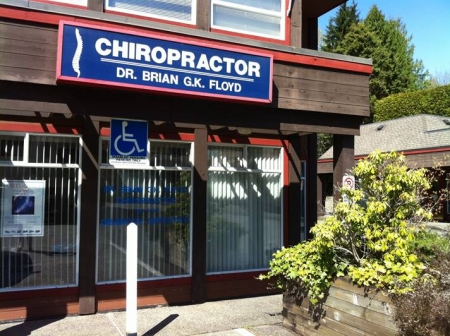 Chiropractic Therapy Can Help With:
Low Back or Hip Pain
Low back and hip pain are two of the most common conditions treated by chiropractic therapy.
Neck/Shoulder/Arm Pain
If you're suffering from neck, shoulder or arm pain, contact us to see whether chiropractic therapy is right for you.
Headaches or Knee Pain
Are you suffering from chronic headaches or knee/foot pain? Contact us to see if we can help!
Sports Injuries
Many sports injuries can be treated with chiropractic therapy. Contact us today!
Brian has helped me so much with my back pain. His care has allowed me to continue with an active lifestyle. Brian is always available to me when I need work. Brian is also very knowledgeable about orthotics. I can't begin to tell you how much I count on Brian and appreciate all he has done for me.
Thanks to Dr Floyd and his recommendation to add orthotics to my regular chiropractic, I have never felt better. Thanks!
I credit Dr Floyd and his orthotics for helping me maintain an active lifestyle with much less pain.
After having lower back surgery in 1991, It has been Dr. Floyd's Chiropractic care over the past 10 years that has enabled me to live virtually pain free, and, in recent years, able to compete in a triathlon, decathlon and 2 half marathons. Thank you Dr. Floyd!
3 Benefits of Chiropractic Care
This blog post explores three benefits of the chiropractic care we perform at our North Vancouver chiropractic clinic. Read this post if you're interested in learning more about chiropractic care and what a chiropractor can do to help your personal situation.
Here's a preview of this chiropractic care blog post:
Chiropractors are best known for safely and effectively treating acute back and neck pain, as well as headaches. Whereas a medical doctor might prescribe pain medicine, muscle relaxers or anti-inflammatory drugs, and an orthopedic doctor might suggest surgery, a chiropractor will treat your back problems by hand, through manipulation of the spine.
Chiropractors bring the musculoskeletal structure into proper alignment. Chiropractors change the position of your body and apply pressure to particular points along the spine that are not properly aligned. This results in a popping noise similar to the one created when you crack your knuckles. The noise is created by a change in pressure in your joints as gas bubbles are released.
Click here to continue reading this post…
---
What to Expect On Your First Visit to the Chiropractor
This post is perfect for any North Vancouver patient who is new to visiting a chiropractor. You should read this blog post if you've never been to a chiropractor before, if you've never been to our North Vancouver chiropractic office before, or if it's been a long time since your last chiropractor appointment.
If the post is helpful, don't hesitate to join the conversation by leaving a comment. If chiropractic care has helped you, you'll be helping all new chiropractic patients who read your comment to know that chiropractic care has worked for you!
Here's a preview of this blog post for new chiropractic patients:
Your first visit will be a lot like a first-time visit to any new doctor. It's likely to include:
A health history. You will probably fill out a long form of questions about your health. The chiropractor may also ask additional questions, such as whether you have headaches or migraines or sleeping problems. He or she may also ask you about your diet and your activity level.
A physical exam. The chiropractor may check your posture, looking for things that aren't normal, such as one shoulder or hip that is higher than the other. The exam may also include a muscle test. This involves pressing an arm or leg against the chiropractor's hand to test strength. You may also walk a short distance so that the chiropractor can check how you walk or other arm or leg movements.
When the chiropractor has all the information, it's time to sit down with you and talk about treatment. If the treatment plan includes spinal manipulation, you could have it the same day or at a later appointment.
Click here to continue reading this post…
---
3 Common Causes of Back Pain
Back pain is one of the most common reasons that patients seek chiropractic care. This post doesn't cover all the causes of back pain that we treat here at our North Vancouver chiropractic clinic, but it does cover three of the most common.
If you're suffering from back pain, give this post a quick read. And, definitely book a chiropractic appointment as we're always here to help!
The 3 common causes of back pain that are covered in this post are:
Too Much Screen Time
Back Muscle Strain
Musculoskeletal Pain Syndromes
Here's a preview of this chiropractic care post:
Have you ever tried to stand up and couldn't due to pain you experienced in your lower back? There are varying degrees of pain that those who suffer from backache may experience, and there are many possible causes for this too. Below, you'll see three of the most common causes of back pain.
Click here to continue reading this post…
---
We're always adding new blog posts to our North Vancouver Chiropractic Clinic blog, so check back often!
For more information about Chiropractic Care in North Vancouver, British Columbia and Canada, check out the Canadian Chiropractic Association and the British Columbia Chiropractic Association.